Art wars, comics, stories, links and all else
inspired by the denizens of Sewer Central on FurryMUCK ('t sewer').

Incite'n
A Comic/Art War by Sewer denizens, featuring familiar faces from the underground domain.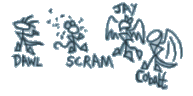 [ First | Archives | Latest ]
Scram!
A comic detailing the history of Scram, Sewer Central's resident diseased rodent.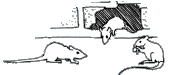 [ First | Latest ]
Links
Comments, corrections, questions? Link, story, art, comic, or something else to add? Page-mail Scram.
Page copyright © Andrea Supalla. Contents copyright © respective creators and used with permission.
Half-inch it and we'll sic AlAl on you!